One of the things I love about denim is how versatile it is.  We've seen them as jeans, skirts, shirts, shoes, bags, and even bathing suits.  One of the biggest summer trends this year is denim vests.  In fact, it's an essential staple.  Given the right pairing, these denim vests can be taken a long way given the many different ways there are to wearing them.  The beauty of them is that you don't have to spend a fortune to find a cool, flattering one, and they can be worn during just about any season.  My favorite is when they're paired with summer outfits.   It's such an easy trend to embrace because it suits most people's personal style. Today we're here to show you some flattering looks with your denim vest.
Denim on denim works great with denim vests.  When wearing it with jeans (or jean shorts), be sure to contrast the colors.  Obvious color clash is preferred over near matching.  Here she's paired her vest with a pair of dark jean shorts, which look great.


(Rebecca Taylor Denim Vest in Blue
from Revolve Clothing)
Try it also with a pair of skinny jeans, as seen here.



(TEXTILE Elizabeth and James Dest Sid Vest
from ShopBop)
A favorite of mine is denim vests with leather, particularly black leather.  I love the contrasting colors of the faded blue denim with the look of rich black leather, as worn in this photo.


(G-Star Arc Denim Vest in Blue
from Revolve Clothing)
A popular look this season is the denim vest with maxi and sun dresses.  Try a dress with some color and pattern.  Denim vests particularly compliment striped maxis.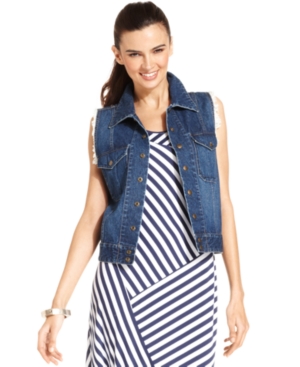 (NY Collection Jacket, Denim Vest
from Macy's)
Another favorite of mine is pairing it with a flowy mini skirt or dress.  We saw a lot of this look at Coachella this year, and I was loving it!  I love the mix of textures of denim against the ruffles, prints, or lace.


(Hudson Jeans Studded Vest in Blue
from Revolve Clothing)
Choosing the right vest is a whole other story.  Things to consider are size and color.  As far as fit is concerned, not all are created equally.  Choose a vest that is more flattering to your body type.  Different vests come in different sizes, from cropped, over-sized, long, boxy, or fitted.  For example, if you are well-endowed, go for vests without front pockets.  Or if you have broad shoulders, steer away from the wide shoulder vests.  If you have a shorter torso, cropped vests can still work for you as long as you were a long top underneath or a long maxi dress.
Like jeans, denim vests come in a wide array of colors and washes, from acid wash, to super distressed, to classic medium blue, to embroidered, to embellished.  And the hues are endless.  This season, distressed faded blue vests are quite popular.  But you don't need to stop there, particularly if you don't fancy the lighter washes. There are many different colors to choose from.
Denim vests are a must this season.  Consider it an investment because you will likely wear it through seasons to come.
Check out some other styles here…

Two by Vince Camuto Vintage Wash Denim Vest


True Religion Jada Cut Off On the Road Vest in Navy